Professional Bed Bug Control Services For The Philadelphia Metro
In recent years, bed bugs have become an increasing problem in the United States, including here in Pennsylvania. These parasitic pests can be found in airports, hotels, hospitals, libraries, movie theaters, shopping malls, public transportation, and in any other areas that people frequent, meaning you can easily transport bed bugs into your home without even knowing that they've hitched a ride on your clothing or belongings. That's why it's more important than ever to take action against bed bugs!
Not only are bed bugs difficult to spot, but they also reproduce rapidly, making them difficult to eliminate with do-it-yourself methods. Consider this: in just three months' time, a single female bed bug can produce over 300 adult bed bugs and 1,000 new eggs! Because of this, bed bug infestations, especially larger infestations, need to be handled by a pest control professional. At Resolution Pest, we can put a stop to bed bug infestations before they get out of control with our professional liquid bed bug control treatments.
Our Bed Bug Treatment Process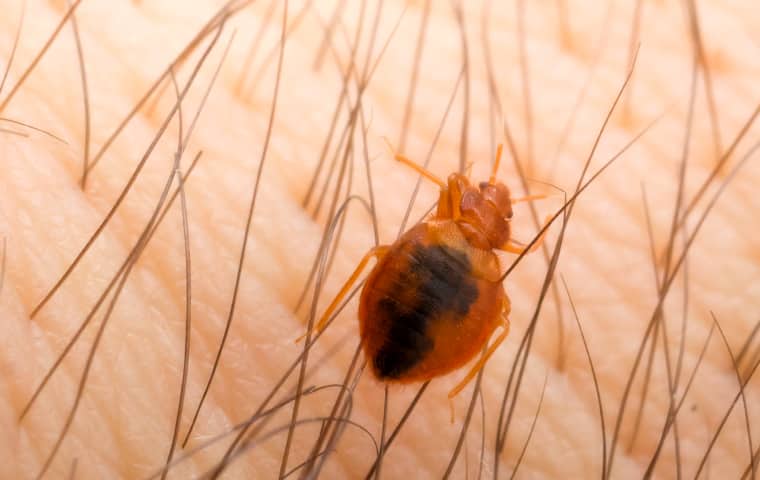 Starting with a free bed bug inspection, we can eliminate your bed bug problem in just four simple steps with our professional bed bug control services.
Conduct A Phone Consultation

If you suspect that you're dealing with a bed bug infestation, contact us at Resolution Pest immediately. We'll complete a free bed bug inspection to determine whether or not you have an infestation. If left untreated, bed bugs quickly multiply and spread throughout your homes and commercial building.
Schedule Your Service
If bed bugs are found, we'll schedule your bed bug removal service and provide you with instructions on how to prepare for the liquid bed bug treatment.
Perform A Liquid Bed Bug Control Treatment
During your scheduled bed bug control treatment, one of our experienced bed bug control technician will treat specific rooms of your home or business or the entire building. This treatment process takes a few hours to complete.
Follow-Up Inspections & Treatments
Since bed bugs can hide in the smallest cracks and crevices, we prefer to apply two treatments to make sure that your bed bug problem has been completely resolved. After your first bed bug treatment, we'll return to your home or business within 7-10 days to perform a second inspection and treatment. About 10 days after the second treatment, we'll return one more time for an inspection to ensure that the bed bugs have been thoroughly eliminated so that you can go back to your regular routine without any worries!
Our 60-Day Bed Bug Control Warranty
Here at Resolution Pest, we offer a 60-day warranty for our residential and commercial bed bug treatments. If bed bugs return within 60 days of your initial treatment, call us and we'll return and re-treat your home or business to ensure that your problem is resolved. This warranty comes with the plan so that you don't need to worry about bed bugs.
Bed Bugs Are No Match For The Pest Control Experts At Resolution Pest!
As a premier pest control company here in Pennsylvania, we're committed to providing effective solutions to your pest control needs, including hard-to-get-rid-of bed bugs! Our liquid bed bug treatments have been proven to be effective in eliminating bed bug infestations throughout the Greater Philly Metro area. If you're dealing with bed bugs in your home or business, contact us at Resolution Pest to schedule your free bed bug inspection and start enjoying a good night's sleep without the worry of bed bugs!
Request Your Free Inspection Today
Complete the form below to schedule your no obligation inspection.