How To Identify And Get Rid Of Termites In Your Wayne Home
5/15/2023
Termite infestations are an increasing phenomenon all over the country, and Wayne residents are seeing an increase in termites as well. Termites can enter your house unseen and settle behind walls and between floors. They eat wood for food, and the longer an infestation persists in your home, the more damage the termites can cause to the structure of your house. Termites can be difficult to remove with DIY pest control treatments. They don't respond well to bait traps, and they tend to establish their colonies in out-of-the-way, protected spaces. If you have a termite problem in your home you want them eliminated, but may have difficulty accomplishing that on your own.
Resolution Pest has a long history of successfully dealing with termites. If you are struggling with a termite infestation in your home, call us. We are your best option for pest control in Wayne.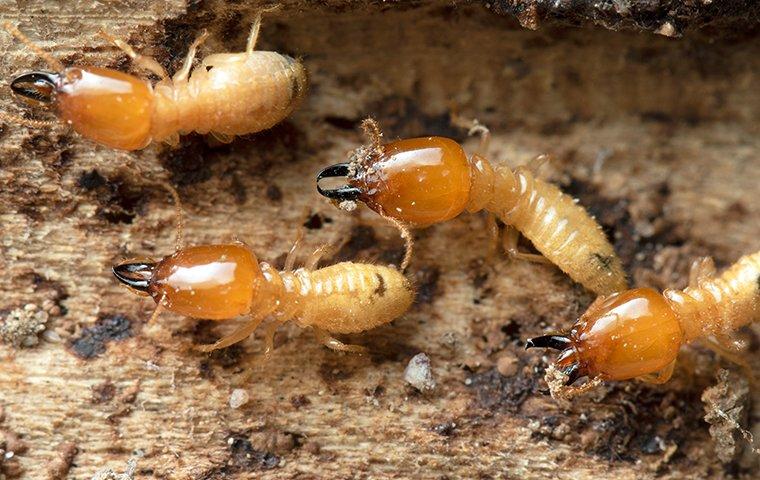 Unsubtle Signs Of Termite Damage
Effective termite control in Wayne requires accurate and early identification.
Here are some ways to tell if termites have entered your home:
Holes in walls: Termites will sometimes chew holes through interior walls.
Sagging floors: As termites weaken floor structures, floors can begin to sag.
Misaligned doors/windows: As house structures shift, doors and windows may begin to come out of alignment.
Once you've identified a termite infestation, it's critical to initiate effective termite treatments. Resolution Pest can help you. We know how to get rid of termites. Contact us today.
Why Termites Infest Wooden Structures
Termites use wood for food. They have the ability to digest the cellulose in wood and are especially drawn to softwood. Termites serve a very important function in nature by breaking down plant material. It's a critical function in nature but a bad situation when they are in your home because termites don't differentiate between the wood they find in nature and the wooden structures of your home. Any wood is suitable for termites, and your home's structure is absolutely full of it.
If you have a termite problem in your Wayne home and you want it gone, Resolution Pest can help. Our seasoned technicians know exactly what to do to take care of termites. Get in touch with us today.
Removing Factors That Attract Termites
Certain things can draw termites to an area, and eliminating these factors can help reduce your chances of having to deal with termites in your Wayne home.
Here are some ways to decrease the potential that termites will come to visit you:
Elevate wood piles: Wood piles that rest on the ground will soon draw termites. Elevating wood piles off of the ground can help keep termites away.
Eliminate stumps: Stumps are a huge draw for termites. Eliminate stumps from your yard to decrease your chances of having to deal with termites.
Decrease mulch: Mulch is pretty to you and tasty to termites, who will readily infest it. Be mindful of how much mulch you use, and keep it away from your house.
These tips can help you reduce your chances of having to deal with termites. If you do find them around your home, however, contact Resolution Pest. We have a history of great customer satisfaction, and we know how to get rid of termites.
The Best Way To Get Rid Of A Termite Infestation
Termite infestations can be difficult to eliminate via DIY pest control methods, and the longer they are in your home the more damage they can cause. If you need help with termites, you need to call Resolution Pest to get started and to learn more about our residential and commercial pest control services in Wayne.