Effective Termite Control Solutions For Philly Homes & Businesses
Termites cause over $5 billion in property damage every single year here in the United States. These pests are considered a "silent threat" as the damage they cause can exist before you're even aware that there are termites in your home or business. When they invade, these wood-destroying insects will eat and chew anything made from or resembling wood, including paper, roof rafters, eaves, foundations, walls, and furniture. And what's worse, these damages typically aren't covered by homeowners insurance! To protect homes and businesses in the Main Line area of Pennsylvania from expensive termite damage, Resolution Pest offers proven and effective termite control solutions!
Our Termite Control Process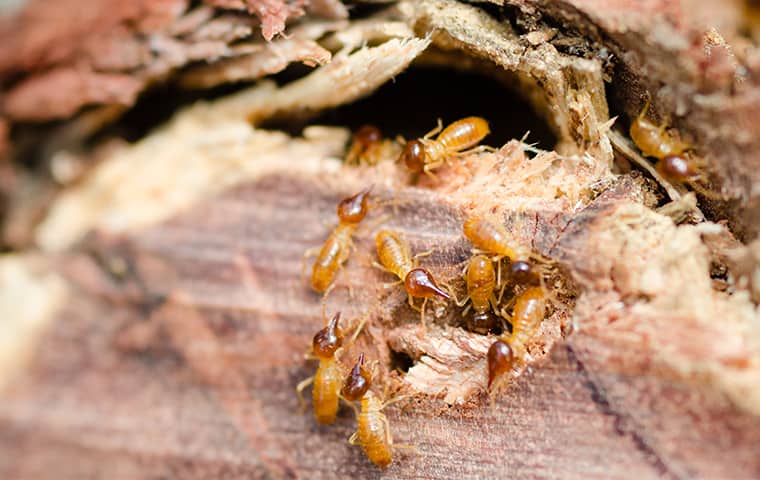 At Resolution Pest, we admit that termites are not the easiest pests to get rid of, but that's exactly why you need professional termite control, and our licensed technicians are up for the challenge! In fact, our termite control process is proven to be extremely effective in eliminating invading termite colonies.
Free Termite Inspection
First, one of our licensed pest control technicians will visit your home or business to complete a free inspection of the premises for evidence of termite activity. This inspection includes an evaluation of the soil around the outside of your building, the wooden components of your building, the roof, and checking the plumbing for leaks. All these are areas that are conducive to termites.
Termite Treatment Options
Once termites have been identified, we can create a customized termite treatment plan. We'll choose from liquid termite treatments and bait stations, depending on the unique needs of your home or commercial building.
At Resolution Pest, our preferred termite treatment for most situations is a liquid treatment called Termidor® HE. After the initial liquid treatment, we follow-up for another inspection 60 days later. Our Termidor® HE treatments include a 1-year warranty that is renewable annually, and transferable should you sell your property.
We also offer Trelona® bait systems. After the bait stations are installed, termites will feed on them and worker termites deliver the bait to the colony. When termites ingest the bait, the colony is eliminated. We'll follow up 60 days after installation, then check on the bait stations every six months. Trelona® is a warrantied termite treatment.
Termite Elimination & Prevention From Resolution Pest
At Resolution Pest, we make it our mission to provide the highest quality service and most effective pest control solutions to our customer's pest problems. When termites come to invade, be ready for them by investing in our professional termite control and prevention services; our preferred termite treatment method is Termidor® HE liquid treatments, followed closely by the Trelona® bait system. For a free termite inspection and to start enjoying your termite-free home or business, contact Resolution Pest!
Request Your Free Inspection Today
Complete the form below to schedule your no obligation inspection.